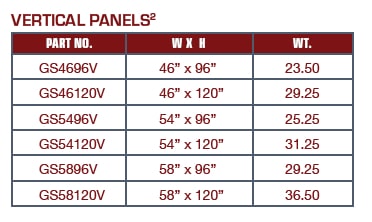 VERTICAL PANELS FOR TOP BAY ATTACHMENT
Attaching the uppermost panel requires the use of a panel support strut (21) that runs horizontally along the top of the panel. This strut fastens directly to the rack's upright. For top rack protection where the rear uprights do not extend beyond the top rack, refer to our backstop extension section.
²Two galvanized vertical panels may be paired to cover the required width of the rack. For instance, two 46" panels will provide coverage for a 96" wide rack. Other sizes are available upon request.
VERTICAL BACKSTOP EXTENSION
FOR TOP RACK PROTECTION.
For those top racks that extend beyond the rack's uprights. Protection from falling inventory is available with our backstop extension (shown for vertically installed panels). These panels simply attach by using two side struts (20) that are trimmed to length during installation, and mount between the panel support strut (21) and the forward upright. If the backstop extends more than two feet above the rack's uprights, then two additional side struts are recommended. These struts, which mount to the uprights, provide extra support. The panel support strut is attached to the vertical panel as shown in the illustration below. Struts are trimmed to fit during installation.